Minnesota's Mille Lacs Lake made quite the splash this spring (2019) when biologists for the Mille Lacs Band of Ojibwe found a potential world-record muskie during a fish survey.
Fisheries crews were doing a routine walleye assessment when a 61 ½-inch muskie was struck by electrofishing shockwaves and rose to the surface. The fish was immediately netted, measured, photographed and successfully released. It was not weighed because biologists didn't have a scale large enough to weigh it. That huge fish is pictured here in a photo provided by the Mille Lacs Band of Ojibwe.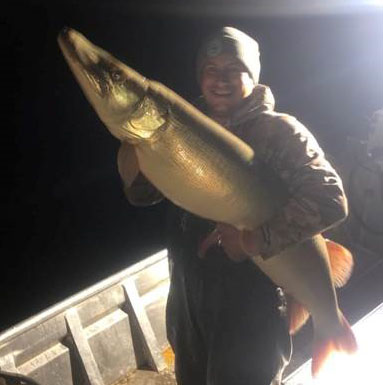 NOTE: The world record for a hooked muskie is 60-1/4 inches caught near Hayward, Wis. in 1949.
Minnesota is well known as one of the nation's top muskie fishing destinations. Those who would like to try to catch that potential world record fish or others in the state's many muskie lakes should know:
Minnesota's statewide muskellunge season opens in early June and closes in early December. Season dates vary on waters bordering other states so check the fishing regulations based on where you want to fish.

Typically, muskellunge fishing doesn't "heat up" until middle or late summer, which is when water temperatures are warmer and this species is more active. Autumn is also prime fishing time. That's when muskellunge tend to feed on larger prey in advance of the long winter and next spring's spawning season. Many of the largest muskellunge are caught in October and November.

The most popular technique for catching muskellunge is casting large artificial lures that are typically five to 10 inches long, or longer. This is typically done while standing in a boat that is motoring slowly or drifting along preferred habitat. This technique allows anglers to cover a lot of water in short time. It is best to stay back from prime muskellunge holding areas when fishing shallow water. Instead, make long casts into these areas because that is less likely to spook the fish.

Trolling is another popular way to fish for muskellunge. Typically, this is done with large diving crankbaits that have a lot of wobble to them. They are trolled along weed lines, rocky points, underwater reefs and other preferred habitat.

Common gear includes a stout rod with a bait-casting reel and heavy braided line of 50-pound test or more. Many muskellunge anglers prefer reels that have a fast gear ratio so their lure can be retrieved rapidly. You will also want a foot-long steel or fluorocarbon leader between your line and your lure as muskellunge have razor sharp teeth that can easily slice through your line.

Other things you'll want while muskellunge fish include a large net, needle-nose pliers for removing hooks and even a small bolt cutter to break-off a stubborn hook. Polarized sunglasses will help you see fish beneath the surface.

Muskellunge and northern pike look similar. A reliable method to tell the two apart is to count the number of sensory pores on the underside of the jaw. A muskellunge will have six or more per side. The northern pike will have five or fewer per side.
Do you want to start fishing for muskellunge? Get your fishing license in Minnesota today!
---