Fishing Lake Okeechobee during the summer is an experience that calls for a bit of angling ingenuity. Of course, Lake Okeechobee is one of the best fishing spots in Florida for largemouth bass, but you'll need to put some extra thought into your summer strategy. Consider these important Lake Okeechobee fishing tips, and think carefully about where to fish on the Sunshine State's largest lake this summer. 
1.    Almost every Lake Okeechobee fishing report you read during the summer will tell you to look for two types of areas: areas with current or areas with cover. The most important Lake Okeechobee fishing tip to remember is to focus on shady spots with cover, or areas of moving water, where the water temperature is likely to be several degrees cooler. 
2.    Go early. The best Florida fishing opportunities during the summer often take place just as the sun is coming up. You can try starting with a "walk-the-dog" style topwater lure, working it near grassy points or edges of vegetation. 
3.    As the summer sun rises higher in the sky, switch to lures or baits that can be worked deeper in the water column or on the bottom. Senkos, soft plastic worms, and soft plastic creature baits are worth trying when the fish go deep to avoid the mid-day heat.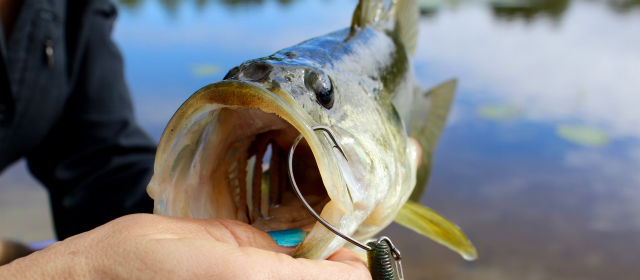 4.    Keep your presentation slow. When freshwater fishing in Florida during the summer months, remember that bass want to conserve as much energy as the water temperatures rise. You're likely to get more strikes if you work your lures and baits slowly. 
5.    If you are fishing from a boat, make good use of your fish finder or sonar to pinpoint underwater structure. Structure can take the form of ledges, holes or drop-offs. Bass will hold near structure during the summer because these areas provide cover to ambush prey.
6.    In order to be successful at fishing Lake Okeechobee during the summer, you have to find schools of active baitfish. Largemouth bass will often chase schools of shad, shiners, or bluegill during this time of year, so keep a sharp eye out for activity on the surface of the water. When you find the baitfish rushing up toward the surface, try casting out a crankbait or swimbait that mimics the appearance of type of baitfish you've spotted.
7.    Last, but certainly not least, always check the weather before you plan a day of summer Lake Okeechobee fishing. Because the lake is shallow (average depth is about 9 feet) and covers about 730 square miles, it doesn't take much wind to generate big waves. Florida's subtropical climate can also mean summer thundershowers, so have a weather radio with you and check the forecast often. Remember, the best Florida fishing days are safe fishing days.
You can check a current Florida fishing report for Lake Okeechobee to get more information about the local areas where the fish are biting, or to find out which baits are working best. From there, all you have to do is buy your Florida fishing license, check the fishing regulations, and head to Southeast Florida.

 
---